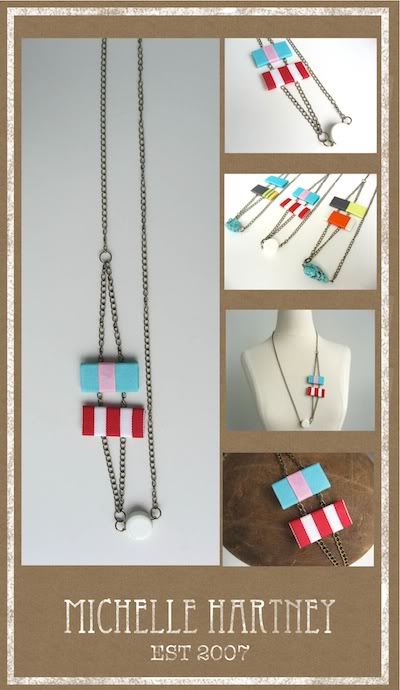 Today's giveaway is from designer
Michelle Hartney
. This fun collection of bags, charms, and headbands perfectly reflects Michelle's clever, feminine sensibility. Understated at times, exuberant and bold at others, this collection gathers inspiration from music, art, street fashion, film, and mother Earth.
The
Red and Blue Tag Necklace
is the newest piece from the
Color Code
line which combines color blocks of ribbon and antiqued silver chain, along with a white porcelain bead to create a unique and contemporary necklace.
The total length of the piece is 28" and will come in a beautiful gift box. The ribbon tags have been reinforced and are very firm and sturdy and measure 1.5 x .75 inches. The porcelain bead is .5".
To enter to win, please visit Michelle Hartney and then leave a comment on this post listing your favorite item, no later than 11:59 pm, Friday, November 11th. A winner will be chosen at random and announced on Monday. Good luck!
UPDATE: The lucky winner of the necklace is
Manding
. Congratulations and please email me by Friday, November 18, to claim your prize. leigh(at)leighpennebaker(dot)com!