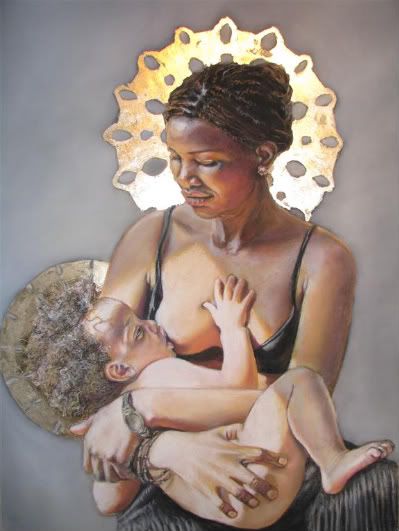 And I, for suckling, no fix'd hour prescribe;
This Nature teaches best the nursing tribe:
Let her your mistress be; and when, with cries
The hungry child demand his due supplies,
Forbear not you the wish'd relief to bring
But, for his use, unlock the sacred spring:
Nor then be loath your snowy breast to bare,
That he may suck, and streaming fragrance share.
--Scevole de Sainte-Marthe, Paedotrophia, 1584
Scevole de Sainte-Marthe was a French poet who was born in 1536. This stanza is from
Paedotrophia
, a Latin poem in three books on pregnancy, childbirth and the caring of infants. Sainte-Marthe became interested in the care of infants after two of his own children died of small pox in infancy. He doled out what most of us today would believe to be commonsense good advice: breastfeed your baby, on demand, nurse him when he cries, keep him warm and close to you, and even once you start on solid food, remember that he still needs lots of his mother's milk.
Interestingly, Sainte-Marthe strongly disliked the use of wet nurses, which was a popular practice at the time. He asked, "What tenderness can o'er from her be known, Who, for another's child, neglects her own?"
P.S. (From Leigh): Check out Elita's wonderful blog, Blacktating, for a wealth of information and inspiration, along with thought provoking-posts that really speak to women who are passionate about breastfeeding, natural and green living and attachment parenting!