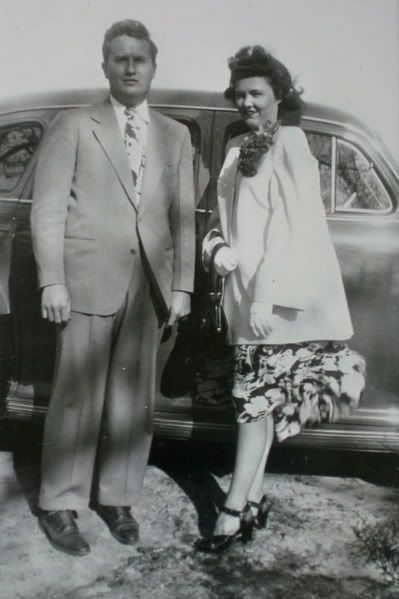 For the past several days, I have been reveling in the fashion-goodness that is
The Sartorialist's
Vintage Photo Contest. Well, I finally decided to join in by submitting one of my favorite old family photos. I thought it would be fun to share it here, too!
This photo is of my maternal grandparents. It has always been one of my favorite family photos because of how utterly dashing they both look. They grew up in rural Mississippi during the Great Depression, and both came from large, poor families (my grandfather was one of eight children, my grandmother one of ten). When they first got married, they didn't have much, but I love that lack of money was no obstacle to great personal style. As you can see here, they both had impeccable taste, and knew how to work the camera. There's something about the light in this photo, and way the breeze is kicking up the hem of her skirt and fluttering through her glamourous hairdo that gives this photo a sense of immediacy and romance. I feel like I'm right there with them, even though this photo was taken over sixty years ago.
Do you have a favorite old family photo depicting great vintage style? I'd love to see them, if you do!