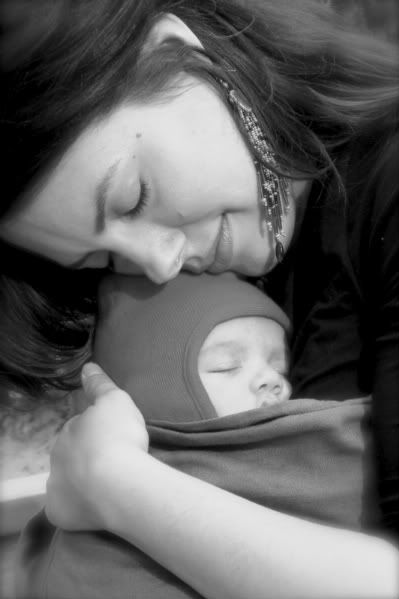 And here is my entry...
My husband took this picture while we were out enjoying New York City a couple of weekends ago. I was nursing my baby on the Brooklyn Bridge, enjoying the incredible scenery of the Manhattan skyline, the Statue of Liberty, the golden, late-afternoon Autumn sunlight. It was a gorgeous day and there were hoards of people coursing over the bridge traveling in both directions on foot, by car, and on bicycle. It was as frenetic a setting in as epic a location as I can imagine, and then there was this:

Within the protective embrace of my arms, cocooned supportively within the sling, my infant cozily breastfed. In that moment, as mama and baby, we might as well have been the only two people on the planet.
And that, to me, is the essence of babywearing and what makes it so beautiful. No matter what else is going on around me, no matter where in the world we may go, there is an intimacy and connection that comes from wearing my baby that is absolutely priceless.
I wouldn't trade the experience of being a babywearing mama for anything.